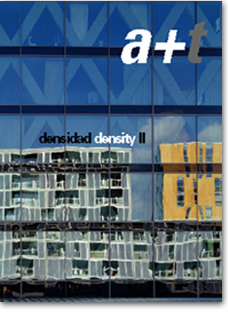 Density II
a+t 20
ISSN 1132-6409
2002
Soft cover ( 23.5x32)
English/Español
160 Pages
a+t magazine number 20, Density II, which printed version is sold out, is now available by projects in PDF format.
Works published in this issue are also included in the book Density. Condensed edition (digital version), available here. This publication forms part of the Density series, that analyses the projects because of their contribution to the dense city. Other books within this series: Dbook, Density projects, HoCo, Next , Density is Home, Why Density, Form&Data and the packs of cards  50 Urban Blocks and  50 Housing Floor Plans, which became a reference for publications about collective housing worldwide.
Once the customer has purchased the pdf project, they will receive both an e-mail confirming the purchase and an e-mail containing a download link for each pdf requested.  In the event of the customer not receiving any e-mails, they should check the e-mails are not in the Spam Tray. If the e-mails are not being orders@aplust.net.