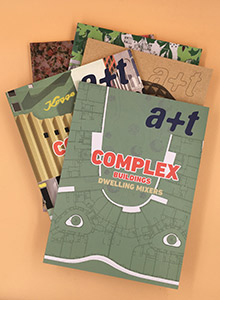 a+t magazine

SUBSCRIPTION/RENEWAL
CURRENT ISSUE
a+t 58
PRINTED VERSION:
2 issues. Shipping cost included.
+ Free access to the online version
Students 20% discount on subscription
Send copy of the relevant document*
ONLINE VERSION:
2 issues. What are online versions?
INSTITUTIONAL SUBSCRIPTION TO THE ONLINE VERSION:
Subscription to a+t magazine is valid for one year, starting from the moment of purchase.
The subscription will include all the new issues, as well as those which are in the process of digitization.
Access is possible within the company or institution's range of IP addresses. Each license grants access to one simultaneous user.
The Online Library is accessible from any desktop or mobile device.
Remote access from outside the aforementioned network is possible using the institution or company's user name and password.
Interested institutions or companies should provide a+t architecture publishers with their IP range to implement access.
Depending on the number of licenses, rates are as follows:
5 licences with remote access: 240 €
10 licences with remote access: 335 €
Unlimited licenses with remote access: 505 €
Please contact orders@aplust.net so that your academic institution can enjoy a trial period of one month before formalizing the subscription.
Choose subscription
Print

Spain and Portugal: 52 €
Europe: 76 €
Rest of the World: 92 €

Online: 29 €
*a+t architecture publishers
Calle General Álava, 15 2ºA.
01005 Vitoria-Gasteiz. España
Tel. +34 945 134276
pedidosysuscripciones@aplust.net