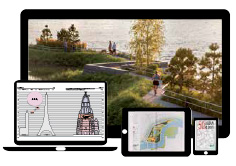 a+t ONLINE LIBRARY
SUBSCRIPTION / RENEWAL
Subscribing to the a+t Online Library allows access to all publications available in online version:
The Online Library will include all the new publications, as well as those which are in the process of digitization.
A search engine finds keywords in all publications.
It allows a single simultaneous access and is compatible with any computer or mobile device.
Duration: one year from the time of purchase.
How can I read online publications?
SUBSCRIPTION FOR MULTIPLE ACCESS
Institutions and firms interested in obtaining licenses for multiple access please contact
orders@aplust.net to provide their range
of IP addresses to proceed.
Online Library
Individual subscription: 69 €