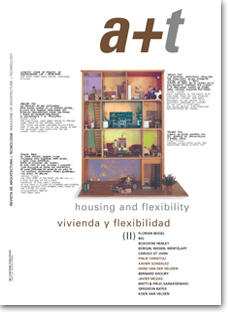 You can also access this publication by subscribing to a+t Online Library
Second issue from the Housing and Flexibility series published in a+t magazine.

The permanence of buildings was, until modern times, one of the main obsessions of the world of architecture. Nowadays, the speed of technological change and urban mobility force a reappraisal of the validity of this principle.
Permanence and in consequence, immutability, are terms which do not often appear in contemporary architectural discourse. Concepts such as flexibility, adaptability and possibility to transform are of much greater interest. In the realm of housing we come across additional problems when putting these ideas of mutation into practice, at least in the sense we have understood them until now.
Issue available in online version (online read of the complete publication from a+t website) or by projects in pdf files (see summary below)
Once the customer has purchased the pdf project, they will receive both an e-mail confirming the purchase and an e-mail containing a download link for each pdf requested.  In the event of the customer not receiving any e-mails, they should check the e-mails are not in the Spam Tray. If the e-mails are not being delivered to this tray either, please contact a+t at: orders@aplust.net.