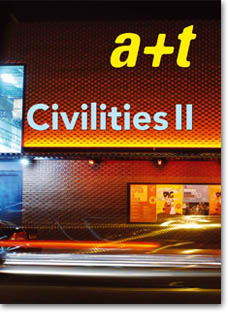 Choose version
Printed version: 25.00 €
Online version: 10.00 €
Printed + Online: 28.00 €
Destination
Choose your country to calculate the shipping costs
You can also access this publication by subscribing to a+t Online Library

This second issue of Civilities is a selection of architectures that are closely related to their location. Some form part of urban regeneration projects while others represent public realm in the middle of a private territory or behave as simple centres of life in a deserted landscape. In other cases, the architecture is added to existing places, to memories and uses that become a stratus of new constructions.
In some projects, the dialogue between old and new is whispered intimately, among old friends.Others take on the tension of a conversation of parents and children.There are also interventions that test relationships with neighbours, the ability to share spaces, combine languages and reconcile functions. Each one has its own good manners, with more or less sophistication, with different budgets and diverse disciplinary rigour.The thousands of kilometres between them does not prevent them from being part of the same group of friends.
The volume forms part of the Civilities series.