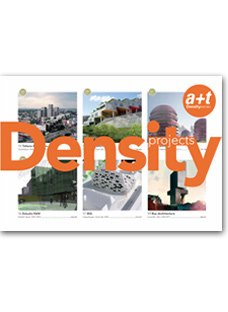 Density projects
36 new concepts on collective housing
ISBN 978-84-612-1335-1
Density Series
Aurora Fernández Per, Javier Arpa
(23.5 x 17cm)
English/Español
2007
400 Pages
Online version: 19.00 € How to read the online versions
You can also access this publication by subscribing to a+t Online Library

Density projects contains 36 ideas on collective housing that are committed to increasing density. They are projects that propose savings in land use and, consequently, a more sustainable environment.
The design strategy of the authors, the implementation in the context and the development of the housing typologies are analysed and compared by themes, following the path begun by the a+t series dedicated to Density. The projects, in phase of development or execution throughout 2007, are characterised for favouring densification through good architecture. Many of them include other uses besides residential uses in their programmes. This contributes not only density, but also intensity to their respective environments.
We believe that the combination of different functions inside the same project is the key to the regeneration of the consolidated city and for the creation of new urban nuclei and that collective housing in this context of mixed-use, generating a dense built environment, is the only solution to the consumption of resources.
Density projects, which printed version is sold out, is now available in online version.