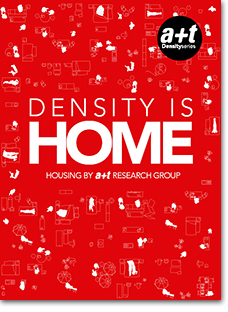 DENSITY IS HOME
HOUSING BY a+t RESEARCH GROUP
ISBN 978-84-615-1237-9
Density Series
Aurora Fernández Per, Javier Mozas, Javier Arpa
Soft cover (17 x 23.5)
English/Español
400 Pages
Printed version: 29.00 €
Online version: 14.00 € How to read the online versions
Printed + Online: 35.00 € How to read the online versions
Choose version
Printed version: 29.00 €
Online version: 14.00 €
Printed + Online: 35.00 €
Destination
Choose your country to calculate the shipping costs
You can also access this publication by subscribing to a+t Online Library

Our home is now in the city which is compacted and mixed up, which grows inwards and is renewed. We are returning to the historic city, to the modern city, to the post-industrial city, we are re-densifying the expansive city of the last decade. We are regenerating the narrow plots of the medieval urban grids, the 19th century urban extensions and the new-old cities of the 60s. We are returning to the built-up city driven by the need to save on resources, but this return cannot be a reluctant one.
DENSITY IS HOME echoes these types of city -dispersed, expansive, modern, the core of the city and the recycled city- through 37 projects on collective housing. 14 case studies have been extracted among them in order to analyze the desirable home.
The book forms part of the Density series, initiated by a+t in 2002, which became a reference for publications about collective housing worldwide.
ARTICLES
AURORA FERNANDEZ PER
... Let\'s speak about density in the first person. For more than ten years now, we have been studying housing in connection with the densification it contributes to the city. We have analyzed typologies, heights, floor area ratios, mixed uses, common spaces, user types... we have measured and compared all that can be quantified but we had avoided getting to the bottom of the matter, to the bottom of the wishing well that housing represents to its residents.
Do we really desire the dwellings that we publish, do we really want to live in the compact city? If we were to ask ourselves what the desired house really was, most of us, if we were honest, would recognize that we have an ideal photo in mind. It would be even more embarrassing if we were to ask ourselves where we live at present, in which type of house, in which part of the city and what plans we have for the future. Suddenly, density ceases to be a concept, something vital for the planet, a ratio for judging plans. Suddenly, density becomes an uncomfortable subject which deeply affects our decisions. We know that the dense city has to be built but while building the city one must not forget the house, considered in the singular, for the private user who will put his or her name on the letterbox.
Let\'s analyze collective housing as an object of desire. When we imagine ourselves living in the city and we superimpose the figure and the background -living in the city, the neighbourhood, the desired house... - it is our desires which sketch out the scene while we throw these down into the well which will make them possible. During this intimate moment, neither planning regulations, nor developers, not even the banks, intervene. We are alone, wandering around an imagined house, where all is the future...
REVIEWS
"A nice and appropriate change of pace [...] elevating the importance of the architects' responses to their surroundings". John Hill, A Daily Dose of Architecture
"Impressive presentation". Yaniv Davidi, ArcHeb