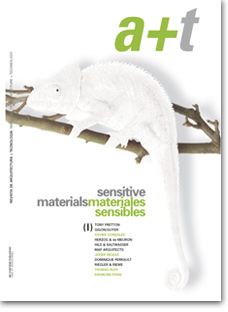 Sensitive Materials I
a+t 14
ISSN 1132-6409
1999
Soft cover (23.5x32)
English/Español
136 Pages
First issue from the Sensitive Materials series published in a+t magazine.

In architecture, the undesrstanding of reality as a unit, as something permanent and like "what it is", gradually being replaced by the appearance of new sensations divorced from the physical world. These new stimuli plunge us into the scenario of "what it seems to be". Faced with this situation, the return to reality reacts like the attitude that demands the five senses once more.
Once the customer has purchased the pdf project, they will receive both an e-mail confirming the purchase and an e-mail containing a download link for each pdf requested.  In the event of the customer not receiving any e-mails, they should check the e-mails are not in the Spam Tray. If the e-mails are not being delivered to this tray either, please contact a+t at: orders@aplust.net.