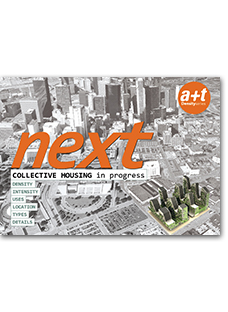 Choose version
Printed version: 29.00 €
Online version: 14.00 €
Printed + Online: 35.00 €
Destination
Choose your country to calculate the shipping costs
You can also access this publication by subscribing to a+t Online Library

The volume by a+t publishers is part of the Density series on collective housing.
Next focuses mainly on infills of the consolidated urban fabric. All projects have won first or second prizes in international competitions and fill in the existing city or regenerated urban voids with different former uses.
Next analyzes 30 European and American projects by 29 different young architectural practices.
ARTICLES
AURORA FERNÁNDEZ PER, JAVIER ARPA