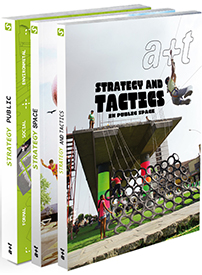 STRATEGY SERIES
a+t 35-36, 37, 38.
ISSN 1132-6409
100 - 10% = 90 euros
With the inauguration of the STRATEGY series,
a+t
paves the way towards a new field of editorial research in architecture: project strategies.
The STRATEGY series analyzes the strategies undertaken in projects of landscape urbanism and public space in order to achieve the set objectives. Its aims to take an in-depth look at the how so as to give the answers to some whys.
Publications within this series
:
a+t
35-36
Strategy Public
(49 euros)
a+t
37
Strategy Space
(25 euros)
a+t
38
Strategy and Tactics
(26 euros)
Buy now the 3 issues and get 10% discount on final price (100 euros).
1.- Choose version
2.- Destination
Choose your country to calculate the shipping costs