This is Hybrid. Utopian hybrids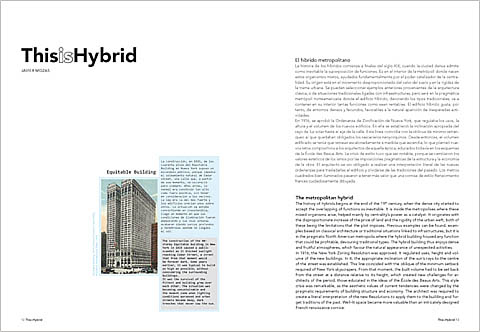 Pages from the book This is Hybrid
The history of hybrid buildings has left us an important number of projects which were never realised, but which have made a great contribution in terms of theory to the present conception of this building typology. Some of them are covered in Javier Mozas' article This is Hybrid, which lends its name to the book by a+t architecture publishers: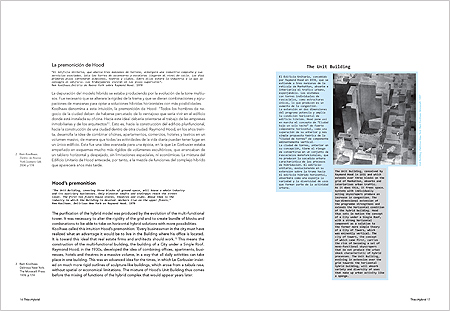 The Unit Building. Raymond Hood. 1931
The Unit Building, conceived by Raymond Hood in 1931 and which extends over three blocks on the grid of Manhattan, absorbs and interiorises urban traffic.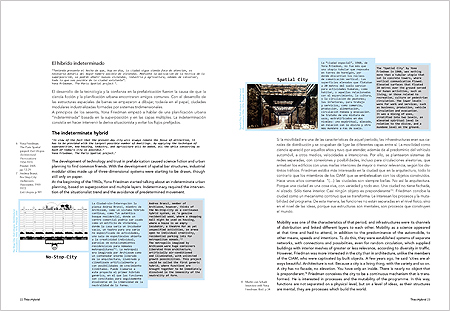 No-Stop-City. Andrea Branzi.
The metropolis imagined by Archizoom were huge containers liberated from architecture, artificially air-conditioned and illuminated, with unlimited growth possibilities.
Spatial City. Yona Friedman. 1960.
It was a mixing of uses, stratified into two levels, an elevated spiritual level in relation to the divine, and a mundane level on the ground.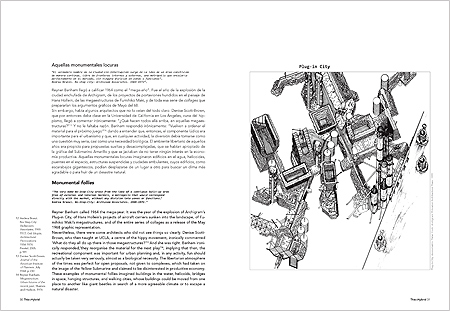 Plug-in City. Archigram. 1964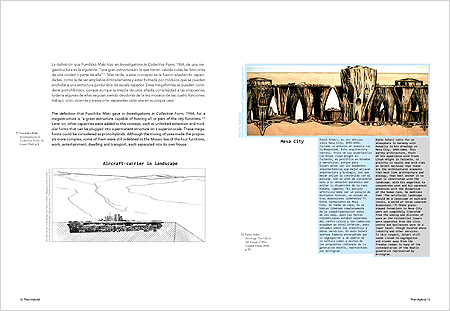 Mesa City. Paolo Soleri. 1955-1964
This earthy architecture, fruit of his experience with Frank Lloyd Wright in Taliesin, is prolific in vaults and arch ribs as Soleri believes that these are the architectural elements that best link architecture and ecology, that best anchor it to what is constructed with the landscape.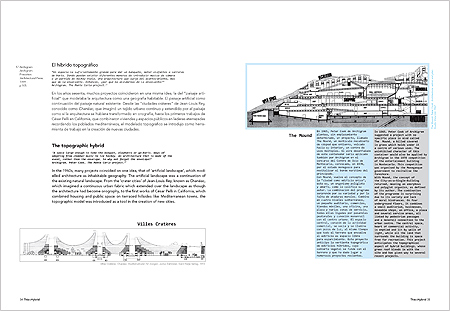 The Mound. Peter Cook. 1965
In 1965, Peter Cook of Archigram suggested a project with no specific place in mind called The Mound, a hilled covered in grass which holds under it a centre of various uses.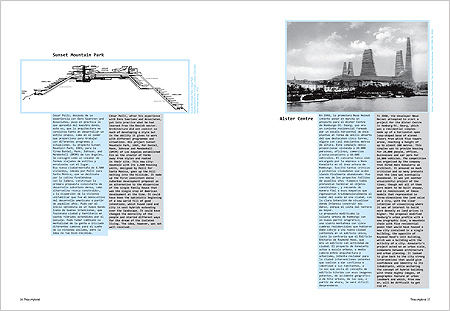 Sunset Mountain Park. César Pelli. 1965
This new city-mountain with its 1,500 housing units, designed by Pelli for Santa Monica, goes up the hill melting into the hillside. It made up the first consistent dense suburban development proposal as an alternative to the dispersion of the single family house that was the single crop of American development at the time.
Alster Centre. Hans Konwiarz. 1966
In 1966, the developer Neue Heimat attempted to start a project for the Alster Centre in Hamburg-St. Georg, which was a residential complex made up of a horizontal open loop-shaped base of eleven floors from which five towers arose, reaching a height of up to almost 200 metres.
Related posts: