Studio Gang Architects. Aqua Tower. Chicago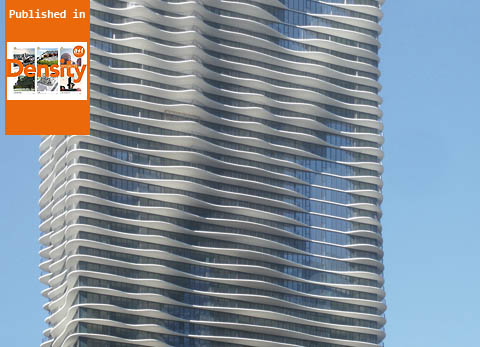 The mixed-use 82-story tower includes a hotel, apartments, condominiums, parking and offices totaling over 162,580 m2. Clusters of high-rise towers in Chicago tell a story of a struggle for views. New towers must negotiate smaller view corridors between already existing buildings. In response to this situation the Aqua Tower is designed to capture particular views that would otherwise be unattainable.
A series of contours defined by outdoor terraces extend away from the face of the structure to provide views between neighbors. These outdoor terraces gradually undulate over the height of the building. Because the shape of the terraces changes from floor to floor, the building presents a sculptural appearance to the city. Shaping of the terraces is further defined and formed by criteria such as solar shading and dwelling type. The result is a high-rise tower that allows residents to inhabit the facade of the building and the city at the same time.
Buy Density projects

Buy Density projects
Related posts: