NO.MAD Arquitectos. Dwellings in Durango. Spain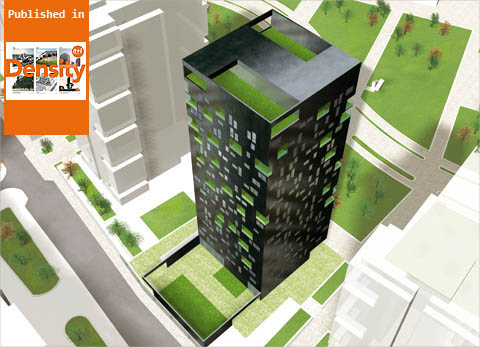 The concept of the home as a group of spaces with different needs of connection and provision allows us to divide those elements that require connections to the vertical network of facilities, elevation, or access to each floor from those that do not need them. This duality configures a series of multi-functional systems proportional to the size of each housing unit. We can link each of the multi-functional systems and fix them around a central communications core.
Between the services and the facade there are areas that serve as landscape and that are variable with height. These spaces have a permeability that is functional and sensitive because of the different ways of observing and enjoying the outside. These are materialised in different types of openings. Those areas of the facade with a view of the far-off landscape are perforated with windowed balconies. The areas with a nearer visual perception are treated with a skin that allows observation from the inside out without being seen. By means of an orderly spiral disposition of the types of homes with their surface and associated chain of infrastructures, a balance in internal organisation is obtained due to the different configurations of the ninety homes transformed by their location and the incitement of high-rise landscape.
Buy Density projects

Buy Density projects
Related posts: