Chiba Manabu. Stitch. Tokyo. Japan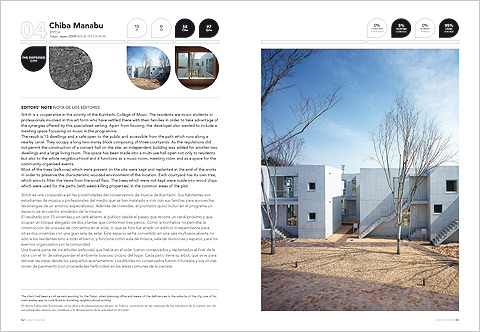 Stitch is a cooperative in the vicinity of the Kunitachi College of Music. The residents are music students or professionals involved in this art form who have settled there with their families in order to take advantage of the synergies offered by this specialised setting. Apart from housing, the developer also wanted to include a meeting space focussing on music in the programme.

The result is 13 dwellings and a café open to the public and accessible from the path which runs along a nearby canal. They occupy a long two-storey block composing of three courtyards. As the regulations did not permit the construction of a concert hall on the site, an independent building was added for another two dwellings and a large living room. This space has been made into a multi-use hall open not only to residents but also to the whole neighbourhood and it functions as a music room, meeting room and as a space for the community-organised events.
Project published in the book Density is Home:
Related posts: