BIG. 8 House. Copenhagen. Denmark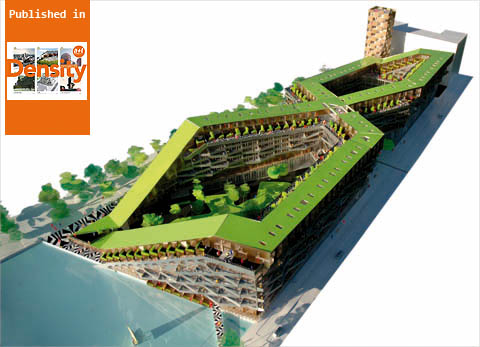 8 House is located in Southern Orestad on the edge of the Copenhagen Canal and with a view of the open spaces of Kalvebod Fælled. The building offers homes for people in all of life's stages: the young and the old, nuclear families or singles. The bow-shaped building creates two distinct spaces, separated by the centre of the bow which hosts the communal facilities of 500 m2. At the very same spot, the building is penetrated by a 9 m wide passage that connects the two surrounding city spaces: the park area to the west and the channel area to the east.
Instead of dividing the different functions of the building –for both habitation and trades– into separate blocks, the various functions have been spread out horizontally. The apartments are placed at the top while the commercial program unfolds at the base of the building. As a result, the different horizontal layers have achieved a quality of their own: the apartments benefit from the view, sunlight and fresh air, while the office leases merge with life on the street.
Buy Density projects

Buy Density projects
Related posts: